A confession
I have a confession to make: I'm a bit car nut. Nothing too serious, though I've been to a few motor shows, car cruises, drag races and track days in my time. Heck, I even went to Summernats once – there's just something about that obsession with mechanical excellence and horsepower.
Some of these events the focus on more the cars and less on the experience of driving. I personally tend to find cruises and track days more satisfying as you get to use the car for what it's been designed to do, rather than just admire it.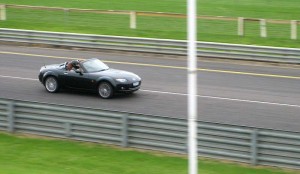 I can't stand traffic jams and prefer doing my commuting by bicycle (yes, really). I choose to do most of my driving on the weekends and I like a good drive just as much as the next enthusiast. Which brings about the question: How do I find the best drives in my area?
Introducing Spiritedd
Volkside have just launched a new online service Spiritedd that offers "inspiring drives for spirited drivers". In web terms it's a Google Maps mash-up for user-created content merged with a social network that lets you create and share your driving routes with fellow spirited drivers. You can find, rank and discuss inspiring drives and exciting cruise destinations in your local area.

Screenshot: Spiritedd homepage
Spiritedd is all about driving
Spiritedd focuses specifically on driving as a recreational activity.
Inspiring drives are at the core of the service. Spiritedd aims to offer drives ranging from relaxed Sunday strolls to ones perfect for proper spirited driving sessions, and everything in between.

Screenshot: A drive on Spiritedd
Spiritedd is for everyone who enjoys driving. It's not specific to any car make or model and it's also not a car forum or an automotive news site. There are plenty of excellent online services out focusing on these things and we are not planning on competing with them.
What exactly is "spirited driving"?
Urban Dictionary defines "spirited driving" as "an exciting method of operating a motor vehicle; taking a car to it's performance limits." I'd like to amend this a little:
Spirited driving is enjoying driving a car to its safe, legal performance limits
On public roads, spirited driving is about driving enthusiastically and enjoying it, without endangering others or breaking the law. Pulling skids or fishtailing on the street is not spirited driving, it's just being a plain old tool.
And as you would have guessed by now, the second d in Spiritedd stands for driving.
What about the competition?
When I first had the idea that has became Spiritedd early last year, the first thing I wanted to check out was the competition. To my surprise, there's little.
There are several general purpose mapping services such as GPSies, Trails.com, EveryTrail and Nokia Sports Tracker. There are also several more specialised services such as Bikely for cyclists, MotoWhere and A Good Ride for motorcycle riders and Bluewalks for walking tours. But try as a did, I couldn't find anything for driving enthusiasts.
Many of these services are also designed around uploading route information from a GPS navigation device as opposed to manually plotting it on a map. This is good if you've got the gear and you're savvy enough to upload the files, however we were keen on creating something simple enough for pretty much anybody to use. I'd like you to tell us whether we've been successful.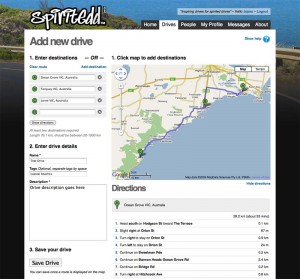 Screenshot: Adding a new drive on Spiritedd
Go try it out!
Enough talk, go try it out already and let us know what you think in the comments!